About Us

Hitek Australia is a 100% wholly owned & operated Australian company formed in 2006 by Rajiv Chaudhri, an IT Consultant with over two decades of experience working on IT Solutions within the Small & Medium Business segment across the United Kingdom, India & Australia.
Hitek Australia is a Microsoft Partner and provides computer based IT Solutions concentrating on the small & medium Business segment in Sydney & The Hills District in Australia.
The philosophy of the company is to provide IT Consultancy at a fraction of the cost of having a full time employee on your payrolls.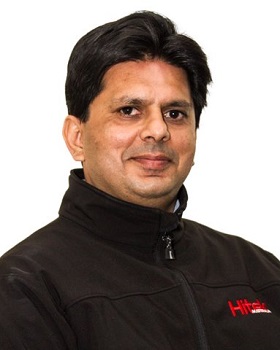 Rajiv Chaudhri, Chief Executive Officer
Rajiv, a Microsoft Certified Systems Engineer & Microsoft Certified Systems Administrator, is a self-styled Small Business Specialist and has worked with many entrepreneurs & corporates providing them with valuable solutions to contribute to their success stories. He is responsible for all aspects of Hitek Australia's operations and is the driving force behind the company's success.
Rajiv started his career in 1991 in London at The St James Court as Resident Manager and was responsible for the operations of Rooms Division & hosted several dignitaries from royal guests to sports celebrities & heads of state. He developed his fondness for computers during his tenure here spending hours creating reports to improve upon the existing efficiency thru better ergonomics conducting time & motion studies and computing reports to confirm his findings.
Rajiv had been closely associated with all major IT companies including Microsoft, Intel, DLink, Samsung, HCL Infosystems, IBM & attended several training sessions & technical sessions conducted by them over the years.
Rajiv returned to India to setup an IT company of his own from scratch. He did some major projects for Public Sector undertakings, Embassies, Banks, etc keeping his focus on corporate clients. He increased his team to 30 employees and set up his first Retail Store, The Computer Shoppe in a shopping centre in South Delhi. He worked as a Microsoft Partner and assisted in several projects including the launch of msn.co.in and in promoting microsoft gaming products thru a flagship infotainment cybercafe cum experience centre that he setup to promote the concept.
Rajiv was the Managing Director and CEO of Hitek Peripherals Pty Ltd for 10 years and saw it grow from scratch to $ 300,0000.00 turnover.
Rajiv was also on the board of an excavation & mining company of 1000 employees and contributed significantly in automating their accounts & administrative function by setting up a remotely managed network centre in the mines in Orissa & Maharashtra.
Rajiv moved to Australia and joined the Nerds On Site Team and went on to be a part of the leadership team as a POD leader during his tenure of four years being the top performer consistently during majority of this period.
Hitek Australia was launched by Rajiv with a view to provide quality IT solutions to customers within the small & medium segment.
Rajiv is a passionate IT consultant with vast experience who has visionary skills to provide cost effective solutions to his customers.
Testimonials

Over the past couple of years we have requested and used Rajiv on many occasions to assist us with a number of computer related issues. He has always been incredibly professional and trustworthy, and after each visit has left us with our systems completely sorted and up to date with the latest technology and protection. We can only rave about how easy he is to work with, how likeable he is to be around and would recommend him without hesitation to any individual or corporation Johanna Griggs Channel Seven Sports Commentator & Host - Better Homes & Gardens

Johanna Griggs - Better Homes & Gardens

Rajiv Chaudhri from Hitek Australia has looked after all my IT & Computer needs for years now & I am happy to recommend him. Ken Callander Journalist, Punter & Author

Rajiv from Hitek Australia has been looking after all my IT infrastructure ensuring I can access mutiple programs on different screens for years now. He is prompt & knowledgeable & deploys the right technology for my business as a Jockey Manager. I am happy to recommend him always. Bryan Haskins Jockey Manager

Bryan Haskins - Jockey Manager

Rajiv Chaudhri has the essential ingredients that an IT Consultant must have ie. Trust, Competence & it doesnt break the bank to consult him for my IT needs which I have been doing for over five years now. I do recommend you listen to him & take his advice as it will result in a healthier computer setup for you. Gareth McCray 2CH Radio Breakfast Host

Gareth McCray -2CH Radio Breakfast Host

Rajiv from Hitek Australia has been looking after my computers & technology & I am extremely happy with their service & happy to recommend them always.